The trick is to tailor activities to your family. You need to find approaches that you and your kids can maintain. If you have more than one child, be sure to consider different interests, ability levels, and personalities. Occasionally, plan one-on-one time with each of the children. Here are some suggestions:
Take walks with a purpose. This may seem so obvious that you've overlooked it. Explore your neighborhood. Take a nature walk and identify birds, rocks, and plants. Hike near-by trails. Or be a tourist in your own city! Incorporate a game such as finding all the blue houses, counting lampposts, or looking for a certain kind of bush or flower. Tell stories as you walk. Or simply catch up on your child's life while there are no distractions. Taking a walk might allow the two of you to have heart-to-heart talks that wouldn't otherwise happen.
Take your child along when you exercise. If you regularly go to a gym, ask if they also offer classes for kids. If you jog or bike, encourage older children to join you. Sign up for a bowling league, or train together for a fun run or walk-a-thon.
Visit local parks. Free fun, fresh air, great for a wide age range. This is a wonderful way to entertain and watch over several children at once. See if you can find and explore every park, playground, hiking trail, and green space within a 20-mile radius of your home.
Fly a kite. Let your child pick out a kite, then fly it together. Or, if you're feeling ambitious, spend time building a kite, then make a date to launch it.
Plan a family vacation or vacation day. Choose nearby or far destinations that incorporate physical activity, such as kayaking, swimming, camping, walking, exploring, skiing and sledding, and skating.
From Good Kids, Bad Habits: The RealAge Guide to Raising Healthy Children by Jennifer Trachtenberg.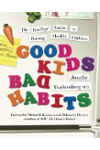 Continue Learning about Family Health