From better grades in school to fewer problems with drugs and alcohol in the teen years, the benefits of family meals are well documented. But with increasingly busy lives, it's tough for parents and kids to sit down with each other long enough to actually enjoy a meal together.
While it would be ideal to share a meal together each day, make it your goal to enjoy a family meal 3-4 times per week. The good news is that dinner isn't the only opportunity -- breakfast during the week or lunch on the weekend also counts. And while a home-cooked meal is always healthiest (less fat, sodium and added sugar), it's fine to enjoy a frozen pizza together too. What matters is that you aren't distracted and that everyone can relax, which leads to kids being more willing to share what's really going on in their lives.
Work and school schedules can be a nightmare to coordinate, so make dinners easier with my tips:
Put at least one thing on the table you feel really good about. That can be organic broccoli florets with Parmesan sprinkled on top, or slices of fresh cucumber, or roasted chicken. You have all 3 tonight? Pour yourself a (5-oz) glass of wine and sit back and enjoy!
Turn the TV off. That goes for Kindles, iPhones, iPads and iPods, and any other electronic device. This rule applies to kids and adults. You can't expect your kids to engage with you if you're scanning your inbox for updates from your boss every 10 seconds. Plus, it's much harder to eat mindlessly when you're focused on sharing the meal and not the screen.
You've got one family, so cook one meal. I believe there should be no distinction between kid food and adult food. True, kids protest various foods (and food groups) from time to time, but if you always offer a variety of food at each meal, your children will NOT go hungry. The second part of this rule is that parents need to set a good example by eating their fruits and veggies too.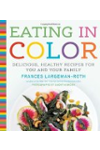 Ideally, you'd eat together seven days a week, but I know that isn't realistic. Your daughter has gymnastics on Mondays and your son has soccer practice on Tuesdays; then there's swimming on Thursday, and don't forget your book group meeting on Friday evening. With everyone's busy schedules, sitting down together for dinner isn't always a possibility, but this is an important one to make time for.
Try to schedule a family dinner at least a few times a week, and if that doesn't work, what about breakfast, or even snack time? Find a time for everyone to sit down together and enjoy one another's company. Making family meals a daily habit that children look forward to helps them develop healthier attitudes about food and resist destructive weight-loss behaviors.

Keep mealtimes interesting by starting with a joke or ending with a riddle or brainteaser to solve by the next meal. Have everyone share a story of something that went well or not so well that day. This routine helps build stronger family relationships and foster healthy child development.
From Good Kids, Bad Habits: The RealAge Guide to Raising Healthy Children by Jennifer Trachtenberg.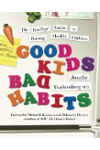 Continue Learning about Family Health