Ideally, you'd eat together seven days a week, but I know that isn't realistic. Your daughter has gymnastics on Mondays and your son has soccer practice on Tuesdays; then there's swimming on Thursday, and don't forget your book group meeting on Friday evening. With everyone's busy schedules, sitting down together for dinner isn't always a possibility, but this is an important one to make time for.
Try to schedule a family dinner at least a few times a week, and if that doesn't work, what about breakfast, or even snack time? Find a time for everyone to sit down together and enjoy one another's company. Making family meals a daily habit that children look forward to helps them develop healthier attitudes about food and resist destructive weight-loss behaviors.

Keep mealtimes interesting by starting with a joke or ending with a riddle or brainteaser to solve by the next meal. Have everyone share a story of something that went well or not so well that day. This routine helps build stronger family relationships and foster healthy child development.
From Good Kids, Bad Habits: The RealAge Guide to Raising Healthy Children by Jennifer Trachtenberg.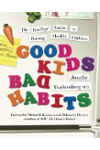 Continue Learning about Family Health