Here are a few ways to reduce selfishness in your family:

Give part of your allowance to charity. Start a new rule: a portion of weekly allowance must be set aside for charity. Even young kids can put away a portion of their allowance or gift money to give to a good cause. Some families require kids to divide their earned allowance into three categories: money to spend, save, and donate to charity.

Do a family sacrifice. Give everyone in the family a big cardboard box and ask them to fill it with give-always including a few things they really care like favorite articles of clothing, toys, books, DVDs or CDs. Then have your kids help you deliver the boxes–which can be colorfully decorated by younger kids—to your favorite charity.

Play the "Gift Of Time Game." Everyone in the family puts their name in a hat and then blindly pulls one out. For the next 21 days each family member commits to spending an age-appropriate amount of time devoted to the chosen name. For example: they can do their chore, help them complete some project, play a game or just hang out together. It's the time spent that counts.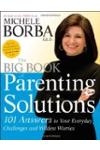 Continue Learning about Family Challenges & Problems