Because about half of all marriages end in divorce, we have to first forgive ourselves and then find innovative ways to minimize the damage of divorce on our children, using love as our guide.
In my case, one thing that was very important to both children was for the four of us to be able to spend Christmas and their birthdays together as a family. So, even though Michael and I have been through many rough patches in the years since our divorce, we make a huge effort to work through all the difficulties and get back to being friends, forever tied together by the two children we've brought into the world. With almost no interruption we've continued to spend every Christmas Day and every birthday together. And by working through the difficult times, we've become closer than ever since our divorce. Indeed, on what would've been our 20th anniversary, a magnificent bouquet of flowers that included twenty yellow roses arrived at my home. The card said, "Happy 20th Anniversary. We'll always be the parents of two remarkable young women. Love, Michael." We did not survive as a couple, but at least we've survived in the joint parenting of our two children. And this has made it much easier for me to move to fearlessness about the impact of the divorce on the girls.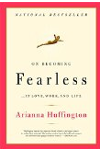 More About this Book
On Becoming Fearless...in Love, Work, and Life
Observing that her own teenage daughters were beginning to experience some of the same fears that had once burdened her--how attractive am I? do people like me? do I dare speak up?--Arianna...
Continue Learning about Family Challenges & Problems