Over the next few days do an informal reality check of your family. Note the extent each family member is currently "plugged in" and to which type of technology (computer, video games, ipod, television). Add up those minutes. Don't let that plugged in time rob your family time.

Some families set a post-it on each technology outlet to serve as an informal time card to jot the time the device was turned on and off.

Identify those ideal times during the day such as the dinner hour, for face-to-face interactions. Is technology hindering those moments? For instance: Are kids watching TV instead of tuning in to dad? Are they texting instead of listening to the bedtime story?

Also check your family's cell phones, texts and tweet logs. Add up the minutes. How much time is your family plugged in?

Do you need to reduce time or certain digital devices? If so, determine which ones and what time.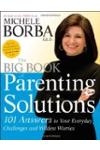 Continue Learning about Family Challenges & Problems