Family coping strategies include:
Keep the household routine as normal as possible.
Remember that children do best when their daily routine is predictable and consistent, even though this won't always be possible given doctor's appointments, tests, flare-ups, or whatever else is on your plate.
Prepare everyone in the family for any upcoming medical procedures your child may need by explaining what's being done, why, and how long it will take.
Resist the temptation to coddle your child. It will be harder for him to participate in normal activities and may even create a relationship in which you both become needy and dependent on one another.
Set limits and keep discipline consistent, which will reassure him and provide all your children with structure and security.
Encourage all family members to talk about their feelings.
Remind each other that people everywhere are dealing with illnesses, disabilities, and challenges like the one your family is facing. Bring up some of the famous role models you've found.
Try to stay upbeat and positive. One psychologist who is an expert in dealing with chronically ill children tells families, "Eighty percent of what we worry about never happens." Keep that thought in the front of your brain.
From The Smart Parent's Guide: Getting Your Kids Through Checkups, Illnesses, and Accidents by Jennifer Trachtenberg.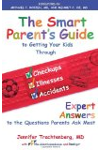 Continue Learning about Family Challenges & Problems