Injuries to the eye—no matter what the cause—require immediate medical attention. When irritated by any substance, however, the eye should be washed for at least 20 minutes before going for medical attention or while waiting for medical assistance to arrive. Eye injuries can be frightening for the victim. Be sure to calm and assure the victim as best you can.
The following are first aid treatment guidelines for chemical eye burns:
Don't delay. Begin flushing immediately. Hold the lids open and pour fresh water over eye or position under slowly running water. Water should flow from the inner area of the eye next to the nose to the outer area, to avoid contamination of the other eye.
Flush for at least 20 continuous minutes before you go for medical attention. It is the duration—not the amount of irrigating—that is important.
Get medical attention for any chemical burns of the eyes.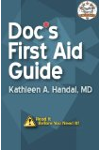 More About this Book
Doc's First Aid Guide: Read It Before You Need It
In a medical emergency, time is of the essence. "Doc's First Aid Guide" is an illustrated, first-aid pocket handbook designed to be used as a quick reference and includes the latest CPR guidelines....
For chemical exposures, immediately start flushing the eye for at least 20 minutes with water and go straight to the doctor. For a blow to the eye, put cool compresses on it. If the eye is bleeding, seek medical attention. And if a foreign object enters the eye, try to remove by blinking the eye, then flush it with eye drops. If that doesn't work, bandage the eye and seek medical attention.
Continue Learning about Eye and Vision