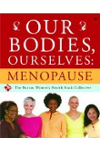 You experience dry eyes when tear glands cannot make enough tears or produce poor quality tears. Allergies can also contribute to eye dryness, which can be uncomfortable. Allergies and dry eyes increase with age. Certain medications can affect your tear output and cause dry eyes. Over-the-counter artificial tears that lubricate the eye are the main treatment for dry eyes.

At age forty, it is important to start getting your eyes examined every one to two years or more often if you have vision problems, a family history of eye problems, former eye injuries, or diabetes.

With age, women lose the ability to see close objects or small print clearly. This is a normal process that happens slowly over a lifetime. Some find they need reading glasses, or bifocals or progressive lenses, which combine two prescriptions into one pair of glasses. The upper half of bifocals and progressive lenses corrects distance vision and the lower half corrects close-up vision.