Spasms of accommodation is a situation in which the "focusing muscles" of the eyes contract when they should not. The condition produces blurred vision, and also often produces double vision. The condition is often self-limiting, but if it persists for long periods of time or if it interferes with the ability to function, treatment may be needed. Treatment generally consists of some combination of eye drops and glasses. An EyeMD should be able to help you make an accurate diagnosis and make treatment recommendations.
Continue Learning about Eye Conditions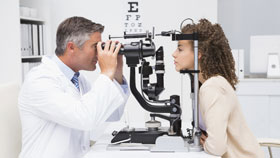 Eye diseases, which are common among adults and range from temporary to chronic and sight‐threatening, can be a result of genetics, injury, surgery or aging. You can lower your risk with a proper diet, wearing sun-protective lense...
s when outdoors and by seeing your doctor for regular exams.
More