A chalazion occurs when one of the oil glands of the eyelids becomes blocked, resulting in the appearance of a lesion. Treatment of a chalazion is not an emergency and these lesions frequently resolve spontaneously with time.
A chalazion (pronounced kuh-LAY-zee-un) is an enlargement of an oil-producing gland in the eyelid called the meibomian gland. It forms when the gland opening becomes clogged with oil secretions. It is not caused by an infection from bacteria, and it is not cancerous.
If an internal hordeolum doesn't drain and heal, it can turn into a chalazion. Unlike a stye, a chalazion is usually painless.
Continue Learning about Eye Conditions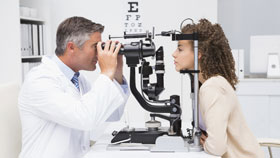 Eye diseases, which are common among adults and range from temporary to chronic and sight‐threatening, can be a result of genetics, injury, surgery or aging. You can lower your risk with a proper diet, wearing sun-protective lense...
s when outdoors and by seeing your doctor for regular exams.
More