Flashes of light and new floaters are a combination of symptoms that cause concern to every ophthalmologist as they may indicate a tear in the retina or the beginnings of a retinal detachment. Many patients have these symptoms and are told by their ophthalmologist that everything is fine, but a small percentage of people with these symptoms need serious treatment and are at some degree of risk for the loss of all of the sight in the eye. A comprehensive examination of your eyes by an ophthalmologist (Eye-MD) is required immediately.
Continue Learning about Eye Conditions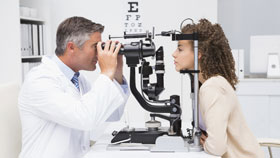 Eye diseases, which are common among adults and range from temporary to chronic and sight‐threatening, can be a result of genetics, injury, surgery or aging. You can lower your risk with a proper diet, wearing sun-protective lense...
s when outdoors and by seeing your doctor for regular exams.
More