There are many other possible causes of optic neuritis (ON) besides multiple sclerosis (MS). These include sinus disease, alcoholism, severe vitamin deficiency, pernicious anemia, diabetes, heavy metal poisoning, autoimmune diseases affecting the vascular system, syphilis, and adverse reactions to vaccination or certain medications such as birth control pills. ON does not always mean MS. And visual symptoms do not necessarily mean optic neuritis. Minor conditions such as eyestrain, overuse of eye drops, eye infections and blows to the head may be responsible for blurring of vision. It is generally accepted, however, that in the absence of any other cause, ON is probably due to multiple sclerosis.
It's interesting to note that optic neuritis (ON) is even more common in other parts of the world. In the United States it is a multiple sclerosis (MS) symptom in about 18 percent of cases. But a recent onset study revealed that the frequency of ON in Great Britain was 25 percent in one eye and 3 percent in both eyes. The frequency of ON onset in Japan was 48 percent in one eye and 22 percent in both.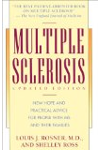 More About this Book
Multiple Sclerosis
Too often, multiple sclerosis is thought of only as "the crippler of young adults." But in fact, 75 percent of all people with MS will never need a wheelchair. In Multiple Sclerosis, Dr. Louis J....
Continue Learning about Eye Conditions