Eyelid margin disease is a common and persistent inflammation of the eyelids. This condition frequently occurs in people who have a tendency toward oily skin, dandruff or dry eyes.
With blepharitis, both the upper and lower eyelids become coated with oily particles and bacteria near the base of the eyelashes.
Continue Learning about Eye Conditions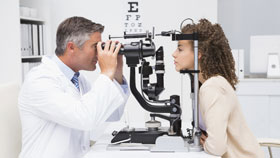 Eye diseases, which are common among adults and range from temporary to chronic and sight‐threatening, can be a result of genetics, injury, surgery or aging. You can lower your risk with a proper diet, wearing sun-protective lense...
s when outdoors and by seeing your doctor for regular exams.
More