Most often uveitis is accompanied by another disease; therefore, it is difficult to prevent uveitis. Treating the underlying infection or disorder might help prevention. However, one can avoid the complications of uveitis by consulting an eye specialist promptly. Symptoms might develop gradually or appear suddenly and intensify rapidly. So, if you experience severe eye ache and problems with vision in either or both eyes, seek medical attention immediately.
Continue Learning about Eye Conditions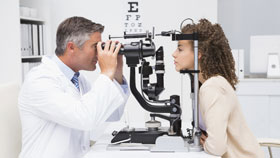 Eye diseases, which are common among adults and range from temporary to chronic and sight‐threatening, can be a result of genetics, injury, surgery or aging. You can lower your risk with a proper diet, wearing sun-protective lense...
s when outdoors and by seeing your doctor for regular exams.
More