There are many symptoms you may notice when your sight begins to deteriorate. The most common is simply noticing you may not be able to see as clearly as you used too. You may have trouble reading or problems driving at night for example. If you notice a change in your vision it's best to get a complete dilated eye exam by an optometrist or an ophthalmologist to get a proper diagnosis.
There are a couple of things you should look out for to tell if your vision has been deteriorating. Here are three tip-offs that you need to see an ophthalmologist or an optometrist:
If you experience eye fatigue quicker than usual when you're doing some activity that you normally do, like working on a computer;
If your eyes get tired earlier in the day-say you can't read in bed anymore, though you used to read before you fell asleep;
If it takes your eyes a little longer than normal to recover to bright lights you see at night (say 7 to 10 seconds as opposed to 3). This is especially evident when you're driving.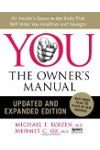 Continue Learning about Eye Care