Protect your peepers with a vision-ary diet! Our eyes require multiple nutrients to function optimally. Start with these:
Vitamins A, C and E and minerals like copper and zinc are essential to eyesight.
Antioxidants, including beta-carotene, lutein and zeaxanthin, protect the macula from sun damage. Get these antioxidants from dark leafy greens, egg yolks, yellow peppers, pumpkin, sweet potatoes and carrots. Notice any color patterns here? Current research shows that consuming yellow and green vegetables can help prevent age-related macular generation, a leading cause of blindness.
Foods rich in sulfur, cysteine and lecithin help protect the lens of your eye from cataract formation. Excellent choices include garlic, onions, shallots and capers.
Anthocyanin-rich blueberries, grapes and goji berries have antioxidant and anti-inflammatory properties that can help improve your vision.
DHA is a fatty acid found in coldwater fish like wild salmon, sardines, mackerel and cod. DHA provides structural support to cell membranes to boost eye health.
Carrots may be packed with vitamin A, but spinach has vitamin A and lutein, both of which can help protect your vision. To get the best use out of both of these nutrients, you need some fat in your diet. Avocado provides both a healthy fat and additional lutein. Put off bifocals as long as possible by making an avocado dressing for spinach salad.
It's true that beta-carotene in carrots is good for your eyes, but so are ample amounts of vitamin C, vitamin E, zinc, and omega-3 fatty acids. They can all greatly reduce your risk of age-related macular degeneration, an eye disease that's common with aging and can lead to blindness. Fill up on oranges, strawberries, and leafy greens for vitamin C. Add turkey and chicken to your diet for zinc. Eat almonds and peanut butter for vitamin E, and cook up salmon, tuna, or halibut for omega-3s.
Take the RealAge Test!
Of course, there aren't too many things you actually want to put directly into your eyes, but that doesn't mean you can't pull the ol' end around: through the digestive system. By getting the right nutrients, you can make sure that enough of them are diverted to your orbs. Our recommendations:
Lutein: Found in spinach, leafy green vegetables, and corn, lutein seems to improve the health of your eyes by preventing oxidative damage to your retina. You can also take it in supplement form at 6 to 30 milligrams daily.
Vitamin C: Research shows that people who eat more fruits and vegetables (which contain vitamin C and other bioflavonoids) are less likely to develop eye conditions than those who eat fewer.
Glutathione: Eggs, garlic, avocados, asparagus, and onions have the free-radical scavenger glutathione, which has been shown to be effective for preventing cataracts (at 500 mg dose). The supplement n-acetylcysteine also helps (also 500 mg daily dose).
The eye cocktail: A large study sponsored by the National Institutes of Health found that certain vitamins, when taken together, can help prevent vision loss for those who have age-related macular degeneration. (It wasn't studied to show preventive powers for those who don't have the disease.) The study found that those people who already had wet macular degeneration had a more than 25 percent reduction in their risk of vision loss if they took 500 milligrams of vitamin C, 400 IU of vitamin E, 15 milligrams of beta-carotene (yes, carrots are good for your eyes), 80 milligrams of zinc, and 2 milligrams of copper every day in divided doses. (P.S.: I think that a lower dose of 30 milligrams of zinc is safer for longer periods of time.)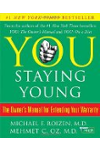 Watch this video to learn more from Dr. Mehmet Oz about eye health.




The latest research suggests that what you eat may help reduce the risk of the leading causes of eye diseases, advanced macular degeneration (AMD) and cataracts.

Approximately 7 million Americans are at risk for AMD, which is the leading cause of central blindness. Individuals with AMD are unable to see images directly in front of them.

In addition, more than 50 million Americans suffer with cloudy vision due to cataracts. Both of these eye disorders impact the ability for individuals to work, socialize, and even function in their homes, especially if they are living alone.

The good news is that a waist-friendly diet, chock full of antioxidant-rich fruits and vegetables and omega-3 fatty acids-rich fish, may not only reduce your risk of developing AMD and cataracts, but also heart disease, cancer, stroke, and diabetes. That's a lot of health coverage per bite.
Follow Joan on Twitter at: joansalgeblake
To support eye health, you should choose foods that are rich in vitamin C, beta carotene, vitamin E, zinc and omega 3 fatty acids. Watch culinary nutritionist Layne Lieberman, RD, explain why these nutrients are vital for healthy vision and eyes.
An estimated 22 million Americans age 40 and older have cataracts, a clouding of the eye's lens that prevents the passage of light needed for vision. However, with regular eye check-ups, cataracts do not have to lead to vision loss for most Americans. What you eat can help protect your vision, too.

Look for foods that provide vitamins E and C, two eye-healthy antioxidants. Vitamin E is found in nuts, vegetable oils, fortified cereals and sweet potatoes; vitamin C is found in foods like oranges, grapefruit, spinach and broccoli.

And consider this: A preliminary study suggests caffeine also might have an anti-cataract effect. So, your next cup of coffee just might keep your eyes healthy and open.
Continue Learning about Healthy Eye and Vision