Improving your posture is easily the best way to improve your appearance and appear taller and thinner. Wearing monotone colors also helps give the illusion of being thinner as multiple colors add size and dimensions. Avoid horizontal striping as this increases the appearance of size not shrinking it. Drinking more water will help flush toxins from the body and will reduce water retention, which helps improve appearance and weight. Finally strengthening your stomach muscles so that they are drawn in more will make your stomach flatter and appear thinner.

When it comes to our skin-covering methods of beauty, it helps to know a few guiding principles. Try these five tricks for instant beautification: (1) Wear clothes with vertical lines to make you look taller and slimmer. (2) Dress in one color to give the impression of a long, vertical line (this is why the little black dress is so effective). (3) Wear dark neutrals, which have the ability to absorb light and recede into the background. (4) Go for fabrics such as crepe, silk, cashmere, knits, jersey, Rayon, Lycra, gabardine, and synthetics. (5) Dress in clothing with SPF protection.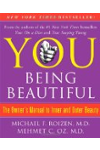 Continue Learning about Exercise For Weight Loss

Regular exercise, along with diet, is a critical part of any weight loss program and is often listed first when suggesting weight loss tips. To lose weight, your body has to be burning more calories than it's taking in – a difficu...
ult thing to do if you aren't actively working out. But it doesn't have to be a daunting exercise. Fun activities like gardening, dancing, walking, yoga and swimming can help you burn as many calories as an afternoon at the gym.
More