One element to losing weight and maintaining a healthy weight is adding exercise to your daily routine and reducing the time you spend sitting. Exercise not only burns calories, it also tempers your appetite, boosts metabolism, improves sleep and provides psychological benefits, such as stress reduction and an increased feeling of control and self-esteem.
If you are over 40, have been inactive for some time, suffer from shortness of breath or weakness that interferes with daily activities or have a chronic health condition, consult a healthcare professional before increasing your physical activity. Notify your healthcare professional about any chest pain, faintness or dizziness, bone or joint pain you're experiencing, and any medications you're taking.
Physical activity is defined as any bodily movement produced by skeletal muscles resulting in energy expenditure. The best kinds of exercises for burning calories are moderate- to vigorous-intensity physical activities. The calories burned per hour are listed for a 140-pound healthy woman.
Moderate intensity activities include:
hiking (386 calories)
light gardening/yard work (302 calories)
dancing (319 calories)
golf, walking and carrying the clubs (244 calories)
bicycling, less than 10 miles per hour (mph) (370 calories)
walking, 3.5 mph (370 calories)
yoga (336 calories)
Vigorous intensity physical activities include:aerobics, high-impact (445 calories)
calisthenics (512 calories)
running/jogging, 5 mph (580 calories)
swimming (580 calories)
bicycling, 12 to 14 mph (554 calories)
racquetball, casual (445 calories)
skiing, downhill (554 calories)
weight lifting, vigorous (400 calories)
Studies such as one done at the University of Chicago show that you don't need to follow the latest complicated diet fad to lose weight. What you need to do is simply increase exercise and limit portion size. In this analysis of overweight women, not only did exercise burn calories, it also boosted the overall metabolic rate. When you exercise regularly, the body burns more calories per minute even when you are not exercising. Strength-building exercises are especially important, as they build muscle, which burns more calories per minute than other kinds of body tissue.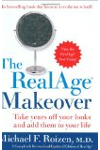 Continue Learning about Exercise For Weight Loss