It's been shown that moderate exercise at least five days a week for 30 minutes a pop will not result in long-term weight loss and maintenance. If you work out for an hour at a moderate level, you will burn and recharge only so much depending on where you are physically. Many people casually work on the Stairmaster or the elliptical, for example, and count the minutes as they go by just to say, "I did 30 minutes today." When they complain of not getting the results they want, we have to remind them that their battery demands to be challenged in the exercise department. You can't just move more in daily life; you have to up the ante. This entails going hard in a workout a few days a week to stress your aerobic capacity and to put pressure on your bones so they are forced to stay strong. It could mean the difference between looking okay but not feeling great.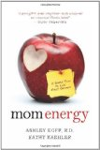 More About this Book
Mom Energy: A Simple Plan to Live Fully Charged
       From celebrated dietitian Ashley Koff and fitness trainer to the stars Kathy Kaehler comes Mom Energy, an exciting new way for moms to tap into their own natural and renewable sources of...
Continue Learning about Exercise For Weight Loss