Doing kegel exercises throughout your pregnancy will help strengthen the same muscles you use to push out your baby, says nurse midwife Paula Greer. To learn more about why kegels are good to do during and after pregnancy, watch this video.
Kegel exercises can help reduce the risk of getting stress urinary incontinence after having a baby.
To help counteract all the sagging that's going on in your pelvic floor, you want to practice Kegel exercises. First, find the muscles you would use to stop urine flow. Now, squeeze and hold for 5 seconds, then release for 5 seconds. Do 10 repetitions three times a day. The beauty of Kegels is that nobody needs to know that you're doing them. The exercises will not only help strengthen muscles to help combat pregnancy-related urinary leakage, but will also help tighten the entire structure for lifelong pelvic health.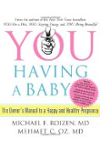 Do your Kegels while you're pregnant, and you'll be glad you did after you have your baby. In this video, obstetrician and gynecologist Evelyn Minaya, MD, explains why.
Continue Learning about Exercise During Pregnancy