Here are some common errors to avoid when doing the all-fours rocking stretch exercise during pregnancy:
When you rock back onto your heels, don't round your upper spine to help flatten your lower spine. All you need to do is flatten your lumbar spine a little more than you have been. Try to do this without rounding your upper spine.
If you feel back pain during this exercise, determine at what point during the rocking back motion it begins to hurt. At that point, work extra hard to pull your belly up in order to flatten your spine. The other problem may be that your tummy is just too heavy for you to control, in which case this exercise isn't right for you.
Be sure you line up with your knees under or slightly in front of your hip joints. When your knees are behind your hips, your back automatically increases its lordotic curve (inward curve of the lumbar and cervical spine) -- which we don't want to happen.
If your hips are painful during this exercise, scoot your knees out to the side about 2-3 inches away from your body, or only rock into a pain-free range of motion.
If one hip doesn't go quite as far as the other when you rock back, then scoot that knee out to the side 2-3 inches to compensate for that rotation.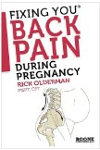 Continue Learning about Exercise During Pregnancy