You may be less inclined to exercise as joint pain increases. This decreased activity in turn leads to further weight gain, which leads to increased stress on the joints, causing more pain, less movement, and more weight gain. This is a difficult cycle to break. Fortunately, there is hope. Once you start shedding excess weight, you will take a significant amount of stress off your joints, and this will lead to a significant decrease in pain and stiffness.

If you are obese and worried about the damage you may have already done to your joints, lose weight now and you will greatly reduce your chances of developing arthritis. Women who lose as little as 11 pounds reduce their risk of developing arthritis of the knee by more than 50 percent.

The good news is that many of the same steps to treat and prevent arthritis will also help you shed excess weight with no extra effort. If you're obese or overweight, you already know that you should lose weight, and a doctor has probably already told you that it is important for you to lose weight. You may have tried different diets and found it difficult to shed the pounds. Please don't despair. Once you start eating right and exercising, the weight will start to come off. You'll be amazed by how much better your joints will feel.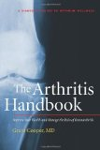 Continue Learning about Exercise - Bones & Joints