Performing strength training (or resistance training) is a great way to increase your bone density-but you need to use enough weight so that your bones get the message.

How much is enough?

Make the weight heavy enough so that you can perform a maximum of 8 to 12 repetitions of the movement. For reasons we don't yet fully understand, this amount of resistance training-called "at threshold," in which your muscles fatigue to the point of failure at 8 to 12 repetitions-puts your bones under the stress they need in order to re-grow, maintain, and build their density.

A little goes a long way, too. Just 30 minutes of weight-bearing exercise a week is all you need to maintain and build your bone density-and impart a RealAge effect of making you nearly two years younger. And you needn't do it all at once; you can split the 30 minutes into three 10 minute sessions to gain the maximum benefit. You'll be reaping the benefits exponentially.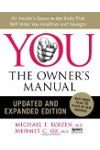 Continue Learning about Exercise & Bone Strength