For optimal health, people need one hour of aerobic exercise a day. In addition, muscle- and bone-strengthening exercises should be done three times a week.
The NASM and the Surgeon General's office recommends that you engage in a minimum of 75 minutes a week of vigorous physical activity, or 150 minutes of moderate physical activity a week. Moderate activity is defined as activity during which you can still talk and answer questions. Vigorous activity is defined as an exercise in which you can no longer talk and answer questions due to the intensity of the exercise. Engaging in more than the minimum will allow you to gain increased health benefits, but at the minimum you should engage in 75 minutes of vigorous or 150 minutes of intense exercise.
STAGE ONE: GET MOVING
Every day, you should be on your feet for at least one hour moving around, using the large muscles of the legs while walking, climbing stairs, working in the garden, shuttling about the kitchen, purposefully strolling about on your lunch hour, or just about anything but sitting quietly in front of a TV. This need not be continuous activity, nor do you need to work up a sweat. What's important is that you are up on your feet moving about every day and, through the course of a day, accumulate at least 60 minutes of activity.
STAGE TWO: BREAK A SWEAT
Once you've become accustomed to being up and "puttering about" at least an hour a day, you should gradually begin to add moderate activities to your weekly routine that eventually total at least 30 additional minutes, three times a week. Unlike Stage One activities, Stage Two activities typically are deliberate and planned. These what we often think of as recreational activities such as brisk walking, jogging, cycling, swimming, aerobic dance, or court sports. These activities should be sustained for 30 minutes or longer, they should be continuous, and they should be done at an intensity that brings a bit of sweat to your brow, raises your heart rate, and has you breathing more deeply.
You get about half of the health benefits from that one hour a day of Stage One puttering about. The other half of the benefits, however, derive from those 30 minutes, three times a week, of sustained Stage Two activities. This, we believe, is the least amount of physical activity to achieve the most health benefits, your long-term LifeFit goal.
If you adhere to your LifeFit program for about six months, combining Stage One and Stage Two activities into a weekly program, you will realize significant reductions in your risk for a number of life-threatening diseases and add years to your life. You will also realize a number of benefits in terms of psychological health and cognitive functioning. And you will become much more fit than you were before becoming active, within the bounds of your genetic endowment.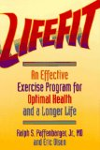 Continue Learning about Everyday Activities & Fitness