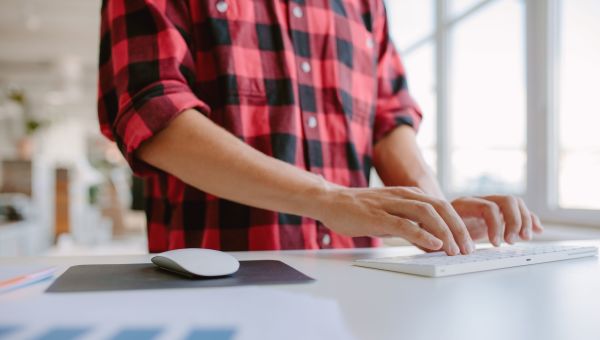 Standing in one position for hours can be as damaging to your health as sitting. Here's what you can do to move more.
Standing in one position for too long is just as bad as sitting down. According to a study in the journal Ergonomics, doing computer-related work at a standing desk for two hours caused participants' feet to swell, and their reaction time and mental state to deteriorate. This research comes on the heels of a 12-year study that found that people who had "standing" jobs (everything from being a waitperson to a coal miner) had a two-fold increase risk of heart disease compared to people who sit while working.
So should you sit or stand on the job? Whether you have a standing desk or not, the most important thing you can do is move throughout the day. Staying in one position for long hours can stiffen muscles and joints and affect circulation. Get up and stretch for five to 10 minutes every hour. Using adjustable desks that allows for various positions is also a great idea. Bottom line is to take advantage of every opportunity to move more, like taking the stairs or biking to work.
Medically reviewed in November 2019.