VO2max is the maximal oxygen consumption or uptake. It's the most relevant measure of the cardiorespiratory system. It's the highest rate at which oxygen can be consumed, distributed and used by the body during exercise. It is determined relative to body weight as millimeters of oxygen per kilogram of body weight.
VO2 max (maximal oxygen uptake) is the best measure of an athlete's cardiorespiratory fitness. Also referred to as aerobic capacity, VO2 max reflects the body's ability to deliver and use oxygen to meet the energy demands of exercise.

A high aerobic capacity is especially important in endurance-type activities (such as distance running, cycling, and swimming); however, it is also important to enhance recovery between brief intermittent bouts of high-intensity activity in other sports (such as soccer, tennis, basketball, and football) during practice and competition.

The VO2 max test is a progressive incremental exercise test using a treadmill or bicycle, depending on the athlete's primary sport or preference.
VO2 max is the maximum volume (V) of oxygen (O2) available for energy production via the oxidative pathway (the highly efficient system of metabolism in which energy is produced). VO2 max is dependent upon your heart rate, cardiac output (how much blood comes out of your heart with each contraction), and tissue oxygen uptake. Reductions in VO2 max are believed to be the primary reason for a decline in functional endurance with aging.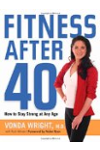 More About this Book
Fitness After 40: How to Stay Strong at Any Age
It's one of the undeniable facts of life. After we reach a certain age, our bodies change. No matter how fit we may have been at 20, we're very different people after 40. But growing older doesn't...
VO2 max is also called maximal oxygen consumption. It is a measure of the maximum intensity at which the body is able to efficiently utilize oxygen.
Continue Learning about Evaluating & Measuring Fitness