In the past decade, scientists have uncovered a wealth of knowledge about types of body fat. Like cholesterol, there are good and bad types. Just last year researchers discovered an alarming difference between brown, or "good," fat and the more predominant "bad" fat, which tends to be white or yellow and collects around the waistline. Brown fat, which actually has a brownish tint to it, is stored mostly around the neck and under the collarbone (so, to a large extent, it's invisible). This fat encourages the body to burn calories to generate body heat (ahem: energy!), and plays an important role in keeping infants warm (infants, as we all know, have fatty necks).

Until very recently we believed that this fat was either gone or no longer active by adulthood. Much to the contrary, it may have a huge role in our ability to stay lean as adults. These recent studies found that lean people have far more brown fat than overweight and obese people, especially among older folks. Unlike its bad-fat counterpart, brown fat burns far more calories and generates more body heat when people are in a cooler environment. Women are more likely to have it than men, and women's fat deposits are larger and more active.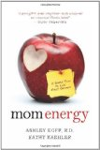 More About this Book
Mom Energy: A Simple Plan to Live Fully Charged
       From celebrated dietitian Ashley Koff and fitness trainer to the stars Kathy Kaehler comes Mom Energy, an exciting new way for moms to tap into their own natural and renewable sources of...
Body fat is distributed in the body differently depending on factors like gender, hormones, and genetics. There are two general types of fat distribution, android, which is typically associated with men or an apple shape, with fat stored around the abdomen, and gynoid typically associated with women or pare shape which is fat around the hips, thighs and buttocks. Studies have shown that fat stored around the abdomen puts you at increased risk of developing heart disease, diabetes, and a stroke. This is what is meant by good body fat vs. bad body fat.
Continue Learning about Evaluating & Measuring Fitness