Upper body stamina, or endurance, is generally measured by performing the one minute push up test.

The push up test is performed for a duration of 60 seconds, or until failure without any break in proper form. Begin in a push up position with the body forming a straight line from head to ankles. Have a partner place their closed fist on the floor underneath the chest of the person performing the push ups. Keeping the body straight, lower down until the chest makes contact with the fist, then return to the start position. Only the push ups where the chest makes contact with the partners fist are counted and recorded.

*Women perform this same upper body endurance test, but perform push-ups on the knees.
The Davies Test can be a great litmus test for upper body stamina and agility.
Set Up & Start Position:
To begin place 2 pieces of tape on the floor 36 inches apart. Have a partner or coach with a stopwatch. Next get into a push-up starting position with one hand on each piece of tape.
Test: To start the test, you will quickly move your right hand to touch the top of your left hand, performing alternating touches for 15 seconds. Your partner or coach will start the timer upon first movement, and will count the amount of touches performed in 15 seconds. It is important that once you touch one hand, that the hand is to be returned to the tape.
The key to this litmus test is to perform every three to four weeks to determine progress.
A simple upper body stamina test is the pushup test. Perform as many pushups as you can with proper form in 1 minute. Have a partner time you and don't count pushups performed without proper form. If you come to your knees the test is over.
To gauge upper-body muscular stamina, do the push-up test (men in standard form, women can do it with knees on the floor). A 30-year-old man should be able to do at least 35 (5 less every decade after that, until he reaches 70). A 30-year-old woman should be able to do 45 with knees on floor (5 less every decade after until she reaches 80).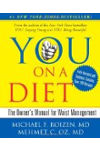 Continue Learning about Evaluating & Measuring Fitness