One of the best ways to measure fitness progress is how you feel. After a week or so of exercise are you beginning to feel more energized? After a couple of weeks are you noticing health benefits such as improved cardiorespiratory function, strength or weight loss? Beyond how you feel physically and emotionally there are many applications and tools one could use to measure fitness progress.
Logging your exercise routine and noting difficulty will identify progress. There are many software applications that are available on the web or for mobile phones that can track your exercise programming and show progress you have made. Nevertheless, tracking exercise and progression is prudent to your success.
To track progress with your exercise program:
Keep a journal: Keep a daily log or journal of your fitness activities, your measurements, your food intake, your sleep habits, and, most importantly, your day-to-day feelings. A growing body of research suggests that moderate, regular exercise can enhance mental well-being by enhancing self-esteem, improving mood, reducing anxiety and stress, and improving sleep. Detail exactly what you are doing to keep fit and how easy or difficult certain activities are, taking special note of whether you were able to do physical activities with greater energy and ease.
Try on clothes: How your clothes fit can be a great indication of how you're reshaping your body. For instance, if you replace 5 pounds of fat with 5 pounds of muscle, you will look leaner and will have lost inches in key areas because muscle is more dense than fat. The end result is that your clothes should generally hang looser in all the right spots.
Test your overall fitness: Sign up for a fitness test at a local health club to measure improvements in muscular strength and endurance, cardiovascular endurance, and flexibility. By repeating tests at regular intervals, you can compare results from previous tests to assess any changes.
These days, there are numerous ways to count steps (or mileage or calories), and that's through higher-tech gadgets and do-it-yourself smartphone apps that attempt to make life even easier for the user. You do the work; it records the data. In fact, research shows that self-monitoring is an effective form of motivation in itself; simply the act of tracking some kind of data gives people incentive to reach better numbers.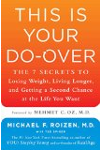 More About this Book
This Is Your Do-Over: The 7 Secrets to Losing Weight, Living Longer, and Getting a Second Chance at the Life You Want
From one of America's most trusted physicians and the bestselling coauthor of the YOU series with Dr. Mehmet Oz—this practical and empowering guide shares the seven secrets to losing weight, restoring peak vitality, and regaining optimal health at any age.No matter whether you're a stressed-out workaholic, a couch potato, or a marshmallow addict, it's never too late to get a second chance. You do not have to let genetics or bad choices of the past dictate your health outcomes. In fact, you have the power to change your body—as well as which of your genes are switched on—no matter how you've lived in the past.In This Is Your Do-Over, Dr.Michael Roizen, four-time New York Times #1 bestselling author and renowned Chief Wellness Officer of the Cleveland Clinic, provides the tools you need to slam the brakes on bad health and press the gas pedal to good health. In the book, he addresses all the areas that contribute to total-body wellness, including nutrition, exercise, sex, stress, sleep, and the brain. Using concrete strategies that anyone of any age can use, Dr. Roizen shows you how to change your heath destiny with his seven simple secrets to earning a Do-Over. He even shares the key step missing in most other programs: how to select and partner with the proper buddy or coach to get you to your goals. Grounded in cutting-edge scientific research and culled from Dr. Roizen's experience coaching thousands, This Is Your Do-Over is the ultimate guide to reversing damage, optimizing health, and living a life filled with energy and happiness. It is not too late; your Do-Over starts now.
Continue Learning about Evaluating & Measuring Fitness