Acceptable levels of body fat range from about 15 to 20 percent of total body weight for men and 20 to 25 percent for women. More than this is thought to be unhealthy, although given the recent findings about the importance of leanness, these percentages may be somewhat overgenerous. But stepping on a scale and then studying body mass index (BMI) or height/weight charts won't tell you much about your health risks; your weight in relation to your height is only a very crude indicator of your body fat and thus only a crude indicator of risk.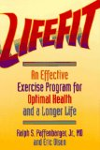 An average, healthy body fat range for males is:
An average, healthy body fat range for females is:
These ranges may vary as we age but staying within reasonable limits will be beneficial to your health. Some may be able to achieve these ranges but your body mass index may be on the high side, closer to 24.9. Keep in mind that a healthy body fat is going to be very important and your BMI may be a little high, especially if you have more muscle mass.
Continue Learning about Evaluating & Measuring Fitness