If you don't raise your heart rate or breathing for a combined 30 minutes, five to seven days per week through general activities like walking, using stairs, gardening, or mowing the lawn, you're most likely not active enough. Keep a log of what you do throughout the week, and see how you measure up. If you're not active enough, add activities that raise your heart rate, but are still fun to you.
With consideration to your current physical condition and age, cardio endurance is a very good indicator for assessing your activity level. When progressing through cardio training zone 1, 2, and 3, you will be challenging your cardio threshold/heart rate. When challenging your cardio threshold/heart rate (for 10 to 60 seconds), you will be increasing your cardio endurance, aerobic conditioning, and cardio recovery.
A good cardio measurement tool to indicate your success is when after 60 seconds; your heart rate returns to a normal zone 2 heart rate, after completing a 60 seconds zone 3 cardio training.
If you can successfully complete that test, you are ready for another round of 60 seconds zone 3 cardio training, then finish your cardio workout in zone 1 for 10 minutes.
If the your heart rate doesn't drop during the minute break, assume you're tired and maybe overtraining, and finish your cardio workout in zone 1 for 10 minutes.
When you find it takes longer to get to zone 3 or you need more resistant to achieve zone 3 threshold, you can correctly assess your activity level is getting stronger and can go to a higher level.
The American Heart Association recommends 150 minutes of moderate activity or 75 minutes of vigorous activity weekly. Moderate activity can be defined as activity that raises your heart rate and oxygen consumption. There are many activities that can accomplish this goal, from walking to competitive sport. Once you have determined your strategy to increasing your activity, there are tools that you can utilize to assess.
Journaling your activity through a traditional paper method or progressive e-journaling apps is one way to assess. There are dozens of quality e-journaling apps in the iTunes and droid stores.
Another popular option is websites that are designed to help an individual track their exercise and food. Sharecare.com, Livestrong.com, presidentschallenge.org are just a few sites specializing in monitoring.
Tools such as pedometers, NikeFeul Band, Bodybugg, and various heart rate monitors are devices that help you quickly identify your level of activity on a daily basis.
It is important that the strategies and tools you implement are congruent to your goals, and you the individual.
Each of us falls into one of three general levels of activity. There are those who are physically active for at least 30 minutes on most days of the week—the time that is recommended by the Centers for Disease Control and the American College of Sports Medicine. Being physically active includes doing housework, gardening, walking, weight lifting, yoga, and swimming. Another variation of this category is people who do more physical activity at onetime but on fewer days per week. If you are in this category, you are already reaping the health benefits of regular activity but may want to look at your mix of activities. Many women do just one type of activity. Consider doing upper-body strength training and stretching exercises for flexibility as well as balance training, if you're not doing already.
In the next category are those who may be active for at least 10 minutes a day but not long enough to meet the recommended amount of time that will bring health benefits. About 44 percent of women of all ages fall into this category.
Then there are those who are physically inactive. For all the benefits of exercise, the inverse is true if you are physically inactive. A sedentary lifestyle puts you at a risk of a premature death from causes that might otherwise be preventable.
If you are in the second or third category, know that getting started is often the hardest part. It requires some changes in thinking and habits. Change is not easy, but there are methods many women have used successfully to make it happen. Step by step, you can gradually introduce physical activity into your life.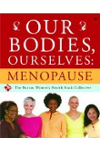 More About this Book
Our Bodies, Ourselves: Menopause
FROM THE EDITORS OF THE CLASSIC "BIBLE OF WOMEN'S HEALTH," A TRUSTWORTHY, UP-TO-DATE GUIDE TO HELP EVERY WOMAN NAVIGATE THE MENOPAUSE TRANSITION For decades, millions of women have relied on Our...
Continue Learning about Evaluating & Measuring Fitness