Certain women should avoid estrogen-containing birth control pills because of increased risk of serious side effects:
Smokers -- because of a higher risk of stroke
Individuals who have migraine with aura -- because of a higher risk
of stroke
Those with a personal or family history of blood clots -- estrogen
also increases the risk of clotting
Women with breast cancer or a family history of breast cancer --
estrogen can increase the risk of developing breast cancer.
Interestingly, taking birth control pills that include both
estrogen and a progestin has been shown to reduce your risk
for developing ovarian cancer.
Progesterone-only birth control pills (sometimes referred to as the mini pill), progesterone-only injection (Depo-Provera), and an intrauterine device (IUD) that releases the synthetic progestogen hormone levonorgestrel (Mirena) are less effective than combination pills at preventing ovulation, and may work as contraceptives by altering cervical mucous thickness. In general, progesterone-only preparations are less likely to influence menstrual migraine compared with estrogen-containing pills.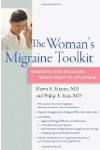 Continue Learning about Estrogen