Estradiol is the most common type of estrogen produced by the ovaries in the reproductive stage. During the menopausal transition, as the number of remaining follicles decreases, ovulations become less regular and women begin to produce lower levels of estradiol, even though follicle stimulating hormone (FSH) continues to rise. In most women, a drop in estradiol production occurs between one and two years before the final menstrual period and for a few years after the final period, until estradiol levels reach a new, lower but steady level.
During the menopausal transition, some women experience very high levels of estradiol in response to the higher levels of FSH. High levels of estradiol may cause symptoms such as breast swelling, breast tenderness, and bloating. The elevated, erratic fluctuations of estradiol may cause heavy and unpredictable vaginal bleeding in some women. If it happens to you, consult your health care provider. High levels of estradiol may cause fibroids or increase the risk of endometrial cancer (a cancer of the lining of the uterus). Vaginal bleeding is a possible sign of endometrial hyperplasia (over-development of the endometrium) and possible endometrial cancer.
When estradiol levels drop, some women may notice hot flashes. After menopause, low estrogen levels may be associated with the thinning of the vaginal tissues, resulting in vaginal dryness or painful intercourse. This also makes the tissues more vulnerable to infection.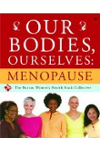 More About this Book
Our Bodies, Ourselves: Menopause
FROM THE EDITORS OF THE CLASSIC "BIBLE OF WOMEN'S HEALTH," A TRUSTWORTHY, UP-TO-DATE GUIDE TO HELP EVERY WOMAN NAVIGATE THE MENOPAUSE TRANSITION For decades, millions of women have relied on Our...
Continue Learning about Estrogen