Estrogen has many beneficial effects on the brain. Scientists have been looking at whether decreasing estrogen levels may cause problems with our brain's ability to function at its best. Estrogen has been found to affect the brain in several ways by:
Protecting neurons from the stress of aging (loss of blood and oxidative changes)
Stimulating nerve cell growth (branching)
Stimulating blood flow and increase in the uptake of glucose (the body's sugar) into the brain
Affecting patterns of brain activation during intellectual tasks
Reducing formation of a protein known as beta amyloid associated with Alzheimer's disease
Influencing neurotransmitters that, among other things, affect memory and mood (acetylcholine, norepinephrine, and serotonin)
Blunting the stress response (hypothalamic-pituitary-adrenal axis reactivity)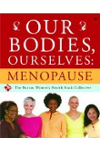 More About this Book
Our Bodies, Ourselves: Menopause
FROM THE EDITORS OF THE CLASSIC "BIBLE OF WOMEN'S HEALTH," A TRUSTWORTHY, UP-TO-DATE GUIDE TO HELP EVERY WOMAN NAVIGATE THE MENOPAUSE TRANSITION For decades, millions of women have relied on Our...
Continue Learning about Estrogen