By increasing the number and size of blood vessels that go to the uterus, estrogen helps increase blood flow, ensuring that enough nutrients make it to your developing baby. In fact, there's a ten-fold increase in blood flow to your uterus from the beginning of pregnancy until the end.

While helping the uterine lining thicken to prepare for implantation, estrogen also plays a major role in increasing the overall size of the uterus. It does this by increasing the number and size of the cells, so the uterus can be stretched to accommodate a growing baby.

Estrogen also helps increase the number of white cells in the blood, thus improving immune function. This comes in handy since pregnancy is an immune-compromised state, and yet you still need to protect the fetus from infections. But increased white blood cells travel along with blood clotting factors to decrease the chances of bleeding in the very vascular uterus and placenta (and thus not supplying nutrients to the baby) and hemorrhaging during delivery. The downside to this partnership is that it increases the chances you'll form clots in your legs and elsewhere.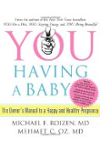 Continue Learning about Estrogen