When a woman transitions into menopause her levels of the female hormone estrogen slowly decline. In fact a woman's estrogen begins the downturn in her late 30s and continues for a few years before it stops declining. Estrogen is a hard-working hormone that affects many parts of the body, the skin, blood vessels, heart, brain and bones. The most common effects are on blood vessels. We call these vasomotor symptoms and include hot flashes, night sweats, and facial flushing. Menopause also causes vaginal dryness and tissue thinning and that can cause painful intercourse and infections. Low estrogen can also lower bone density, a risk factor for postmenopausal osteoporosis. Low estrogen may also impact bladder control, sleeping, sexual desire, mood, memory and cause weight gain.
Lowered levels of the female hormone estrogen cause your menstruation cycles to stop. Known as menopause, or the change of life ending your fertility, low estrogen also cause vaginal dryness, irritation, and itching that can cause discomfort and pain during intercourse.
Talk to your doctor about lubricants that can help relieve the dryness. Other effects of lower estrogen levels include:
Stress
Bladder control problems
Sleep problems
Depression or anxiety
Intimacy problems
The reduction of estrogen levels that women experience at menopause represents the natural state for women. The higher levels produced when women are younger allow for ovulation and the possibility of pregnancy; beyond the reproductive-age years, these higher levels are no longer necessary.
Reduced estrogen production can be health-enhancing in some ways. Decreased estrogen can reduce our risk for certain hormone-related health problems. For example, estrogen is strongly linked with the risk of breast cancer. Other hormone related disorders, such as fibroids (benign tumors) and endometriosis (a condition in which tissue like that of the uterine lining grows outside the uterus, causing pain, infertility, and other problems), are greatly decreased after menopause.
All of the physical changes related to menopause are not experienced as positive. For example, lower estrogen levels tend to be associated with vaginal dryness, a sensation that many of us find unpleasant.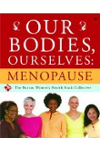 More About this Book
Our Bodies, Ourselves: Menopause
FROM THE EDITORS OF THE CLASSIC "BIBLE OF WOMEN'S HEALTH," A TRUSTWORTHY, UP-TO-DATE GUIDE TO HELP EVERY WOMAN NAVIGATE THE MENOPAUSE TRANSITION For decades, millions of women have relied on Our...
Continue Learning about Estrogen