Estrogen levels rise dramatically during pregnancy and drop precipitously after delivery. Compared to first-trimester levels, estrogen increases six-fold by the third trimester and then drops to almost undetectable levels after delivery.

Many women find that headaches improve as estrogen levels surge during pregnancy. Improvement usually begins at the end of the first trimester. This tends to continue throughout the remainder of pregnancy, while estrogen levels stay high. When the baby is born, estrogen levels drop and headache protection is lost, causing headaches to begin again.

Sixty to seventy percent of women with migraine will have significant improvement in their headache patterns during the second and third trimesters.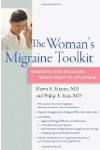 Continue Learning about Estrogen