Women's estrogen levels decrease as they age, just as men's testosterone levels do. In addition to having a lack of lubrication from testosterone, this estrogen drop causes the size of the labia to shrink. That makes the clitoris more exposed, which leads to reduced sensitivity or unpleasant tingling.

Adding to this, the natural swelling and lubrication around the vagina also decreases with age, and there's a loss of libido.

This represents the female equivalent of erectile dysfunction.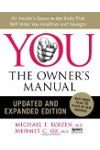 Continue Learning about Estrogen