The following are the benefits of estrogen-only and estrogen plus progestogen combinations:
Fewer and less intense hot flashes
Less frequent and less intense night sweats
Reduced vaginal dryness
Reduced loss in bone density
Reduced risk of bone fractures
Estrogen-only and estrogen plus progestogen combinations both reduce the frequency of hot flashes and night sweats—some women find that they eliminate them altogether. Those of us who are having serious problems with hot flashes and night sweats also often have difficulty sleeping as a result, and the relief that we get from hormone treatment can help us sleep better.
Estrogen-only and estrogen plus progestogen combinations also relieve the vaginal dryness and thinning of the vaginal tissue that woman may experience after menopause. When the vagina is dry and the skin there is thin, sexual contact may be uncomfortable or even painful. Hormone treatment can eliminate the discomfort or pain, which might prevent some women from enjoying sexual intercourse. Hormone creams or tablets that women apply directly to the vagina may have the same benefits without all the risks of hormone treatment taken systemically—orally or through the skin. There are three forms of local estrogen currently available: an estrogen ring, an estrogen tablet, and estrogen creams. These can help relieve vaginal dryness without delivering as much estrogen to the bloodstream as oral or transdermal hormone treatment.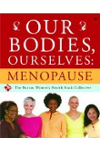 More About this Book
Our Bodies, Ourselves: Menopause
FROM THE EDITORS OF THE CLASSIC "BIBLE OF WOMEN'S HEALTH," A TRUSTWORTHY, UP-TO-DATE GUIDE TO HELP EVERY WOMAN NAVIGATE THE MENOPAUSE TRANSITION For decades, millions of women have relied on Our...
Continue Learning about Estrogen