So many men work their way through treatment options for erectile dysfunction (ED) on their own. They are often incompletely satisfied and unable to enjoy a sexual relationship. And here's a depressing thought: the longer you go without consistent erectile function, the shorter and smaller your penis gets! We call this "atrophy" and it's similar to what happens to your leg when it is left in a cast for a long period of time. The adage "use it or lose it" comes to mind.

Make an appointment to talk to your doctor about your erectile dysfunction symptoms today. Don't let feelings of embarrassment get in the way of sexual intimacy and enjoyment. Life is just too short.

This content originally appeared on http://blog.mountainstar.com/
Yes. With our new medications, about two out of three males can overcome erectile dysfunction.
If you have trouble getting an erection or maintaining one that is firm enough to have sexual penetration more than 25% of the time, you should definitely talk to your doctor about your erectile dysfunction (ED) symptoms. It's a medical problem, often associated with circulatory problems, so you should talk to your doctor about it. Your doctor may surprise you by pointing to less serious causes, such as a lack of sleep, that can contribute to ED. You should see your doctor right away if you have ED after an injury or prostate surgery, or if your ED is accompanied by back pain, problems in urination, or abdominal pain.

Think about it. How is your doctor going to know there is a problem unless you willingly offer to discuss the problem? Your doctor may not ask you about it because most people aren't willing to discuss erection problems. The problem with this oath of silence is that millions of men and women are missing a tremendous source of pleasure in their relationships simply because no one wanted to ask for help.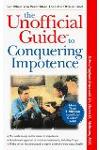 More About this Book
Unofficial Guide to Impotence
The Unofficial Guide to Conquering Impotence delivers the inside scoop on impotence: the truth about Viagra, what treatments really work, and how lifestyle changes can aid in conquering...
If you have symptoms of erectile dysfunction that are frequent or ongoing, you should talk to your doctor. All men generally experience problems getting or keeping an erection from time to time, but if it happens frequently or is ongoing, it may be erectile dysfunction. Symptoms of ED may also indicate a more serious underlying health problem, so it's a good idea to see a doctor if you notice other symptoms or if you have a personal or family history of other medical conditions.
Continue Learning about Erectile Dysfunction