When you combine the highly charged fears of erectile dysfunction with the hush-hush attitude about male sexual problems over the years, it's no wonder that there have been few answers to help men understand the problem and break this vicious cycle that so often results in sexual failures. After failing repeatedly to have an erection, some men simply give up, assume nothing can be done to help, and withdraw from attempting sexual activity. It is not unusual for some men in their 60s or 70s to say they have not had sex in a decade or even two.
You have to remember that your mind is very powerful. Even a normal, healthy man without any physical problem can sabotage his erections just by worrying about his ability to perform. Some men view impotence as being the dictator of their self-esteem.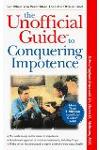 More About this Book
Unofficial Guide to Impotence
The Unofficial Guide to Conquering Impotence delivers the inside scoop on impotence: the truth about Viagra, what treatments really work, and how lifestyle changes can aid in conquering...
Continue Learning about Erectile Dysfunction