One of the most effective interventions which costs very little money yet may help you overcome impotence is social support. For example, there is no question that loneliness is as much a risk factor for disease as having high cholesterol or smoking cigarettes. It is well documented that people who are happily married and/or have large networks of friends not only have greater life expectancies compared with those people who do not, but they also have fewer incidences of just about all types of disease.
However, social support does not have to be just in relationships with other people. You might form emotional attachments with your animals. This is every bit as strong as the attachment between a parent and a child. There are countless papers published in the area of animal-human bonding revealing the health benefits of this type of interaction. Even having a plant can be beneficial.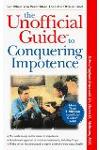 More About this Book
Unofficial Guide to Impotence
The Unofficial Guide to Conquering Impotence delivers the inside scoop on impotence: the truth about Viagra, what treatments really work, and how lifestyle changes can aid in conquering...
Continue Learning about Erectile Dysfunction