Although erection problems are extremely common, no one has to tell you that when it hits home--when it happens to you--it causes feelings of high anxiety and distress. Men tell of questioning their manhood. They worry that this will threaten their marriage or other intimate relationships, and many men assume that erection problems are a sure sign of old age or disease.
These feelings of fear, anxiety, and stress are triggered each time the man fails to perform sexually or even when he thinks about the problem. With each unsuccessful performance, these feelings become a never-ending cycle of fear of failure, stress, depression, and more erection problems. Some of the most common feelings these men have include:
1. feeling ill at ease
2. feeling discontent
3. anxiety
4. anger
5. resentment
6. sleeplessness
7. fear
8. inadequacy
9. low self esteem
10. frustration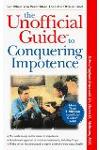 More About this Book
Unofficial Guide to Impotence
The Unofficial Guide to Conquering Impotence delivers the inside scoop on impotence: the truth about Viagra, what treatments really work, and how lifestyle changes can aid in conquering...
Continue Learning about Erectile Dysfunction