To cope with anxiety and fear:
1. Write down on paper the very situations that make you anxious and fearful--a certain program or newscast on television, a friend who is negative, conflict with a family member who does not accept your condition, even reading the morning paper. Try to avoid these situations when possible so you are not confronted with fearful areas.
2. Do not expect your spouse to be your therapist. Find a licensed mental health counselor and make an appointment to "talk it out" with an impartial trained professional who understands sexual problems.
3. Keep an open mind about complementary medical interventions that can help you relax, such as relaxation response, music or laughter therapy or herbs for relaxation.
4. Ask your physician to explain the nature of impotence so you can understand what you can control and what you cannot. There are many medical treatment options available to allow you to move beyond this condition. Stick with your doctor while you try these treatments until you find one that works best in your situation.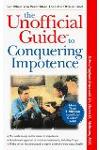 More About this Book
Unofficial Guide to Impotence
The Unofficial Guide to Conquering Impotence delivers the inside scoop on impotence: the truth about Viagra, what treatments really work, and how lifestyle changes can aid in conquering...
Continue Learning about Erectile Dysfunction