Anger is a natural reaction to erectile dysfunction (ED) or impotence, and how men react to the anger can vary from one person to another. Some use the anger in a positive manner, some ignore the anger, and some let these angry feelings consume their whole beings.
In order to cope with the anger and irritability that often accompanies a failure to perform sexually, it will help you to try and understand these feelings. Once you do this, you can replace the energy you spent being angry with positive actions to make life enjoyable for you and those around you.
Keep in mind--if you have lived with impotence for months or even years, you definitely have a right to be angry. Nonetheless, you do not have a right to belittle yourself or hurt others physically or verbally while expressing this anger.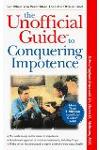 More About this Book
Unofficial Guide to Impotence
The Unofficial Guide to Conquering Impotence delivers the inside scoop on impotence: the truth about Viagra, what treatments really work, and how lifestyle changes can aid in conquering...
Continue Learning about Erectile Dysfunction