There is research evidence that the amount of blood flow into the penis decreases with age, but the body can still adjust and have an erection. With age, in some cases the closing of the veins may not be as efficient, which allows an earlier loss of erection. This means there is an erection which is good enough, but it is not able to be maintained for more than a few minutes.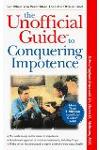 More About this Book
Unofficial Guide to Impotence
The Unofficial Guide to Conquering Impotence delivers the inside scoop on impotence: the truth about Viagra, what treatments really work, and how lifestyle changes can aid in conquering...
Continue Learning about Erectile Dysfunction