An extreme option for treating erectile dysfunction is to undergo penile implant surgery. There are a variety of prostheses, but you should talk to your doctor about possible complications. For example, there are prostheses that have you walking around semi-erect 24/7, which can obviously be uncomfortable. And inflatable prostheses can easily malfunction.

Still, these prostheses are easily concealable under your clothing (even under swimsuits and jeans!), inflation can be achieved discreetly, and the psychological and emotional well-being you'll experience due to having the full package can be worth the risks.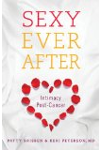 More About this Book
Sexy Ever After: Intimacy Post-Cancer
Recent studies show that 40-100 percent of men and women who have been treated for cancer have experienced some level of sexual dysfunction. Sexy Ever After: Intimacy Post-Cancer will help you...
Continue Learning about Erectile Dysfunction Treatment