A vacuum constriction device uses a plastic cylinder, a pump which can be manual or battery operated, and a constriction ring. An airtight seal is made by putting the constriction ring around the open end of the cylinder. The penis is inserted into the open end of the cylinder, which is clear plastic. The device is held against the abdominal wall to keep an airtight seal. The pump is then used to remove air from the cylinder. This negative pressure draws blood into the penis and creates an erection.
When the erection is as desired, with the cylinder still in place, the constriction ring is moved off the cylinder to the base of the penis. The ring is worn during intercourse. This compresses the veins and keeps more blood in the penis to help maintain the erection. It usually takes about 2 to 3 minutes to create an erection and the ring can be left on for 30 minutes. The erection often is maintained after orgasm. The ring should be removed after 30 minutes to avoid complications.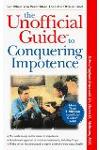 More About this Book
Unofficial Guide to Impotence
The Unofficial Guide to Conquering Impotence delivers the inside scoop on impotence: the truth about Viagra, what treatments really work, and how lifestyle changes can aid in conquering...
Until prescription medications came along, the only proven at-home therapy for erectile dysfunction (ED) involved using a vacuum pump. With this therapy, you lubricate your penis and put it into an airtight plastic cylinder that's attached to a handheld pump. Some pumps are manual, while others operate on a battery. In either case, air is pumped out of the cylinder to create a vacuum, which increases blood flow to the penis. Once an erection occurs, which usually takes about five minutes, you remove your penis from the cylinder and fit a rubber ring around the base of the penis to prevent blood from draining away. The erection lasts until the ring is removed.

Vacuum pumps are noninvasive and highly effective, working for about 80% of men. Their advantage over medication is that they can be used as often as a man wants. But there are several disadvantages. They require a bit of manual dexterity, and having to fuss with the pump can interrupt lovemaking. In addition, the erection doesn't feel as natural as one produced by a drug. Although firm, the erection can be somewhat floppy because it starts above the base of the penis. About 10% of men have side effects, such as pain, bruising, or difficulty ejaculating, any of which can cause discomfort during sexual activity.
Continue Learning about Erectile Dysfunction Treatment