Can Kegel exercises help erectile dysfunction?
In a randomized, controlled trial of 55 British men, three months of twice-daily sets of Kegel exercises, which strengthen several muscles of the pelvic floor, combined with biofeedback plus advice on lifestyle changes -- quitting smoking, losing weight, limiting alcohol -- worked far better than just advice on lifestyle changes. During the next three months, the control group also practiced Kegels and experienced similar improvements in erections. At six months, 40% of all the subjects had regained normal erectile function and an additional nearly 36% had improved.
Continue Learning about Erectile Dysfunction Treatment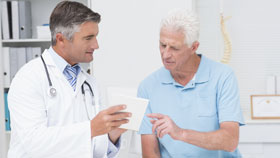 Erectile dysfunction (ED) can be treated by urologists or other specialists or even by your general practitioner. Your doctor may recommend medication that works by relaxing penis muscles and increasing blood flow into the penis. ...
Other treatments include therapy, implants, surgery and lifestyle changes, like exercising regularly, losing weight and eating right.
More