Acupuncture, one of the oldest healing systems in the world, has been used to treat everything from insomnia to pain. No wonder some docs recommend it for erectile dysfunction (ED). It's just too bad the studies are contradictory. One finding reports that acupuncture helps men with ED; another claims that it doesn't help at all. Of course, if acupuncture helps your erectile dysfunction problem, that's the only research you really need. If you want to try acupuncture, it's important to know that this therapy isn't regulated in the US the same way Western medicine is. Before seeing an acupuncturist, make sure he has both a state license and national certification.
Continue Learning about Erectile Dysfunction Treatment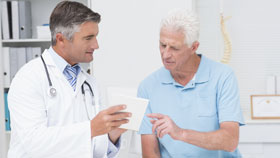 Erectile dysfunction (ED) can be treated by urologists or other specialists or even by your general practitioner. Your doctor may recommend medication that works by relaxing penis muscles and increasing blood flow into the penis. ...
Other treatments include therapy, implants, surgery and lifestyle changes, like exercising regularly, losing weight and eating right.
More